Yay!! My first
EVER
giveaway!! I'm soooooo excited! Giveaways are so much fun (who doesn't like free stuff???) In honor of my new
Faceboo
k
fan page
I'm giving something away! I wanted to start with something small- it took me awhile to figure out what to giveaway..... I knew I wanted to give away a Starbucks giftcard (it's
my
absolute favorite thing to be given) but I wanted something else fun and unique to give away with it, something that went right along with a Starbucks giftcard. Finally I found it....... a
Specs & Wings
coffee cozy made by the one and only Molly Swanson. If you have never seen any of Molly's Specs & Wings art head on over to her
blog
or
Facebook
page and check it out..... she is an incredibly talented artist!
Here is the Specs & Wings coffee cozy I'm giving away...... how cute are the buttons!!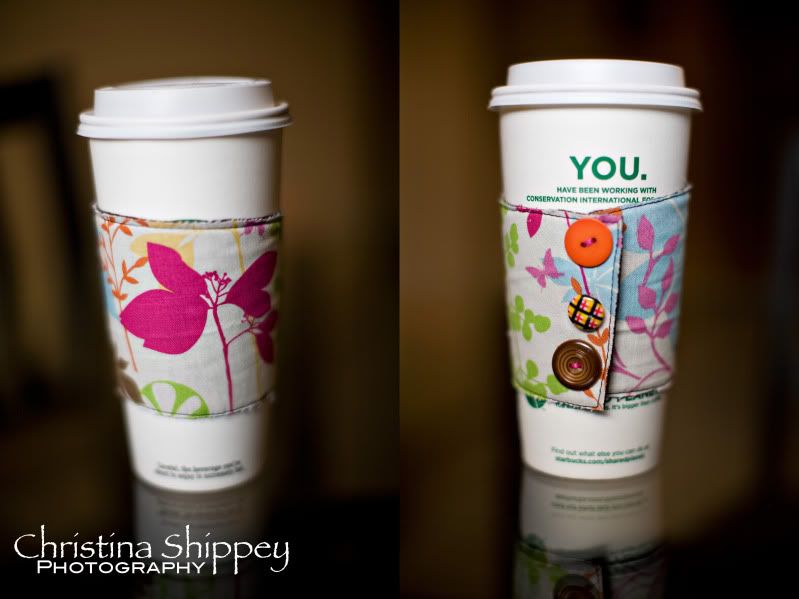 Haha...... and of course I couldn't give away one with out getting one for myself as well........ I'm all about pink!!
Makes drinking Starbucks even that much more fun!! It also solves the problem I've been having lately..... when they don't give you a sleeve at Starbucks and your coffee is about to burn your hand off!! Now my hand isn't in any danger when I have a hot Starbucks drink in my hand...... and I'm being green (saving the earth one starbucks drink at a time!!)
To enter to win a $30 Starbucks giftcard and Specs & Wings coffee cozy:
1. Update your Facebook status with the following (don't have a Facebook...... twitter or email a friend about the giveaway!):
Christina Shippey Photography is giving away a Starbucks giftcard and a Specs & Wings coffee cozy! Check it out! http://christinamaeshippey.blogspot.com/2010/04/starbucks-and-specs-wings-giveaway.html
2. Come back and leave a comment letting me know what you did (also if you don't have a google or blogger profile.... please leave your name at the end of the post so I know who left the comment!)
Contest ends Sunday the 11th of April at midnight! I will put all the entries in a hat and randomly draw one and announce the winner next Monday!